Our Lobbyists
James Amann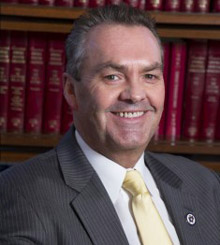 Former Speaker of the House, James Amann is the founder and Senior Partner of I.G.S., an international consulting and strategic advisory firm specializing in public and private government affairs in Connecticut and throughout the United States.
During his twenty-eight years in local and state government, Jim served as Speaker of the House from January 2005 through January 2009. He represented the 118th district in Milford, Connecticut and was the first representative from Milford to hold the positions of Speaker of the House and Majority Leader.
As a State Legislator, Amann also chaired the freshman caucus from 1991 through 1993. As a state legislator Amann served as House Chair of the Insurance and Real Estate Committee from 1993 through 1998, where he sponsored landmark healthcare legislation. Jim also held seats on the Finance, Revenue and Bonding Committee 1994 – 1999 and the Judiciary Committee 1991 – 2002. Jim's leadership posts include Deputy House Majority Whip 2001 – 2003 and House Majority Leader in 2003 – 2005.
Born in Bridgeport, Speaker Amann grew up in Milford where he attended local public schools, graduating from Jonathan Law High School. Jim continued his education at the University of New Haven studying criminal justice and has received honorary doctorates from the University of Bridgeport in 2005 and the University of New Haven 2007.
Michael Rell

Michael Rell is a government affairs professional with experience in the legislative process and public policy.  Over a 20 year career in state legislative work, Mike has amassed extensive experience working collaboratively with state and local elected officials, as well as state agency officials.
Prior to joining International Government Strategies, Mike worked as a press secretary for the Senate Republican Caucus, a policy analyst for the House Republican Caucus and most recently their Director of Outreach. Mike served as Vice Chairman of President George W. Bush's Connecticut campaign and has worked on a number of successful federal, statewide and local campaigns.
Mike is currently the Mayor of Wethersfield and a volunteer on a number of boards and commissions, including an appointee of the House Minority Leader to Connecticut's Tobacco and Health Trust Fund Board.  Mike also serves on the Executive Board of the Glastonbury Sportsman's Association, an organization dedicated to the conservation and preservation of our region's natural resources.
A graduate of the University of Delaware, Mike holds a Bachelor of Arts degree in History. He and his wife Maura reside in Old Wethersfield with their two children, Madeline and Charlie.